Software
(english)
ScantraConnect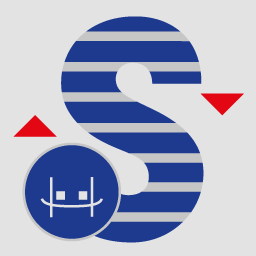 Short description
ScantraConnect is a SCENE App which connects SCENE and Scantra directly. This enables SCENE-projects to run a bundle block adjustment without the need of target points. Thereby all references and inclinometer data will be considered by Scantra. ScantraConnect applies all information in the SCENE project calculated by Scantra (www.technet-gmbh.de).

Scantra (www.technet-gmbh.de) is a program for automated registration of laserscan point clouds based on identical planes and points. Prior to its registration, the relative positions of the point clouds are unknown. Applying Scantra, overlapping Scans are automatically oriented with high precision and reliability. This is achieved by automatic dectection and matching of identical planes instead of target points.

Following the mutual orientation of the scan pairs, all point clouds are oriented via block adjustment in a common reference coordinate system.
ScantraConnect

features:

transfers positions and inclinometer values between SCENE and Scantra (www.technet-gmbh.de)
export of scan transformation parameters
export of scan inclinometer values
export of tiepoints (Spheres, Checkerboards, picked Points) per Scan
export of references (if present)
import of scan transformation parameters
takes into account the scan names
Available licensing models is:
Full license – pay once, use the same major version lifetime
Usage

ScantraConnect menu


ScantraConnect toolbar
install APP
load a Project
start

ScantraConnect


choose desired feature from menu or toolbar

export to SCANTRA
import from SCANTRA

if importing, choose options
if satisfied, save project after importing the data!
BEWARE: APP does not show any message, if overwriting database entries!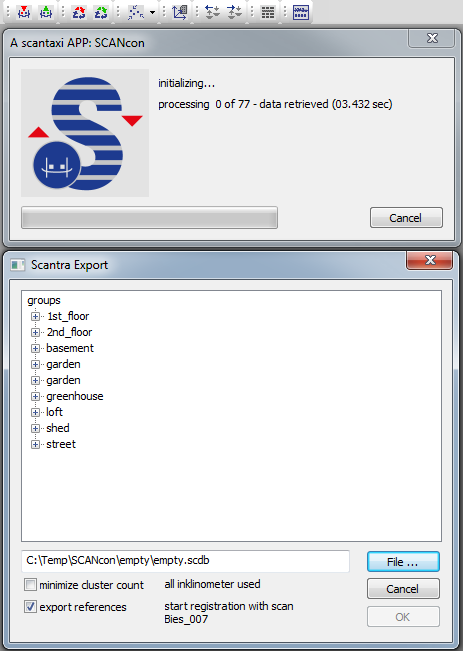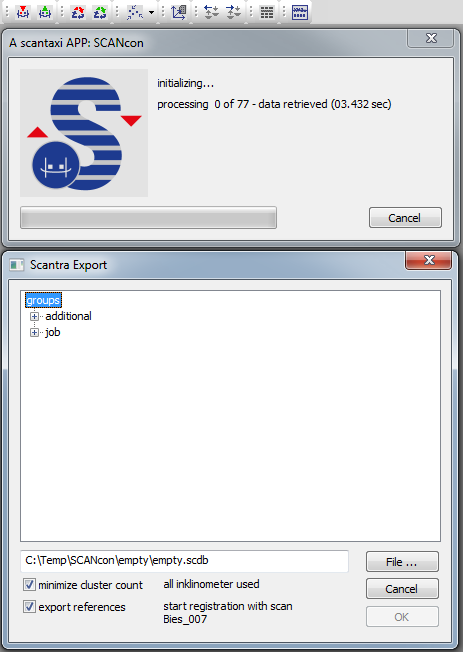 ScantraConnect export dialog
Known Issues
Unloading the app while running will cause SCENE to crash.
With Scantra v2.3.1.103

the "Referece Scan" is missing in the results and will not be transformed in SCENE
Workaround:
set the transformation-matrix in SCENE to 0,0,0

RMB [right mouse button] on scan
properties
transformation
set the POSITION fields to zero
System Requirements and Compatibility
SCENE 5.1.6 and above
SCENE 5.1.6 LT and above

Identical with SCENE
Network card for licensing
SCENE must be run as administrator to install the plug-in
SCENE must be run as administrator to install any license (if license is installed with user privileges, each user has to install the license seperately)
Changes
03.02.2016 - Version 1.0.7

Bugfix in license manager
new feature: remove all transformations of clusters/folders, if importing new transformations

06.03.2017 - Version 1.0.9

license manager changed (still working with former licenses), now compatible to Windows 10 registry behavior.
new feature: will not write inklinometer covariances anymore • use "Edit->Options->Registration" in SCANTRA to set the needed values for the inclinometer!
new feature: Checkbox to update the positions in the "Adjacency Graph" in SCANTRA
new feature: export single custer (all the other values in the SCANTRA-databases remain unchanged!).

20.03.2017 - Version 1.0.10

tested with Windows 10 and SCENE 6.2.4.30